iOS 13 Camera wish list
I use the built-in iOS camera dozens of times every day. It is just a couple taps or a swipe away from launching. Because of the simplicity to open, load and shoot, it is my most used camera app, and the most used app on my iPhone.
As Apple's Worldwide Developers Conference (WWDC) approaches, there will be a new release of iOS and a whole bunch of new system and software updates and features added. The Camera app is often overlooked but should be included in the release.
While the Camera app shines in its simplicity and ease of use, there are several things Apple could do to improve it. While these often come with the release of new iPhones, there are things that could come in the software that need to be fixed. Some of these could be considered pro features, I think the general user would benefit from having them in what is likely the most popular camera in the world.
Over the years, Apple has added automatic QR code reading, Live Photos, increased resolution and frame rates to the camera. But the app has generally been unchanged since iOS 7. I don't think the app needs a radical design, but there are several things that can be done to make it easier and more powerful to use.
Here are some improvements I'd like to see in iOS 13 to the camera. I'll follow this up with wishes for the Photos app.
Move Camera settings into the app
I've written previously about how there are many "hidden" Camera settings. In the Settings app, you can enable a grid for the viewfinder, change photo and video formats and resolution as well as enabling Smart HDR. Having settings tucked in here is common for several of Apple's apps. While it's annoying for most of them, it is particularly so for the camera app.
Earlier this month, I gave a presentation about mobile phone photography and recorded it on my iPhone. I forgot to change the resolution and frame rate on the video, so the full hour was recorded at 4K resolution, 60 frames per second (fps), resulting in a 22.97 gb video file. That was annoying to edit.
With a camera, you need to have these settings handy. There's times where I want to record at a more cinematic 24 fps — other times 60 fps. Moving some of these settings into the actual Camera app will allow users to make changes more quickly but also make people aware that they actually exist.
This could work by adding a gear icon into the lower corner with the flash, Live Photo, time and filters icon.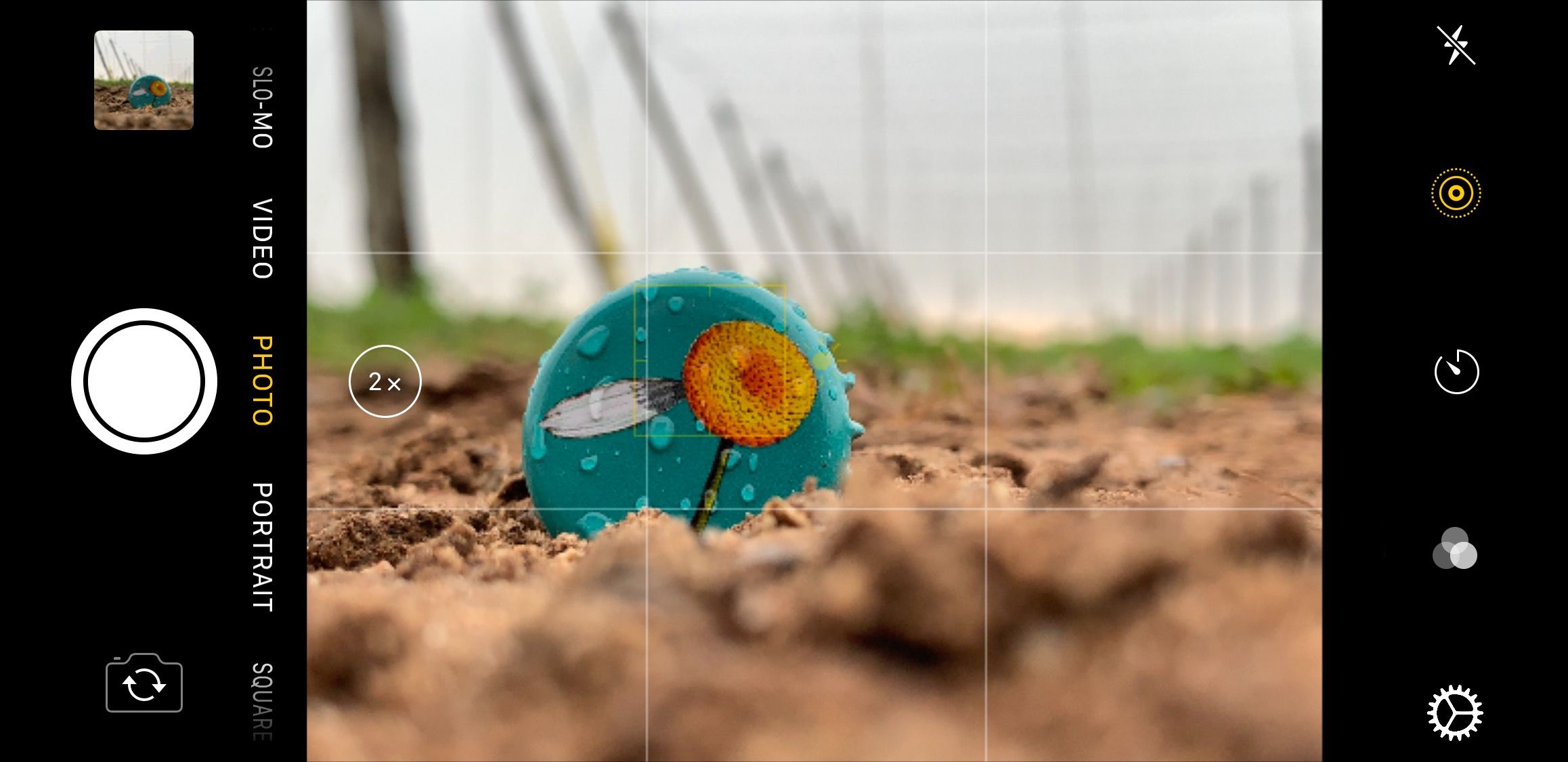 A mock up of adding a settings icon to the Camera app.
Automatic system settings when using the camera
The camera app lives within the ecosystem of the larger iOS, and there are several settings that make for a better phone but take away from the camera.
The first is the actual phone. I've written about how when I shoot videos, I turn on Do Not Disturb or Airplane mode so a phone call doesn't abruptly stop recording. I would love to see a setting that automatically toggles Do Not Disturb any time you open the Camera.
Additionally, there are some color-related features I'd like to see have a similar setting. I love Night Shift and True Tone when using my phone, but when it comes to shooting and editing, the changes in color can negatively impact how I am seeing the image being captured.
It is easy to swipe down on Control Center and turn these off, but being able to have them automatically disabled when you open the Camera or Photos apps would be great.
Switch automatically between optical lenses when zooming
I don't often zoom with my Camera app because you aren't really gaining much with the software zoom, but I know a lot of people who do.
You can manually switch between the dual lenses of the iPhone X and XS, but I would like to see that happen automatically. Whatever focal length I'm at, I want the best lens to do the job. I know the lenses currently have different apertures, but when you are zoomed in, that doesn't really effect it much.
This will become more important as Apple is rumored to be adding a third lens to its new iPhone this fall.
Other wishes
Live Photos in Square Mode
Square mode can be nice to help frame an image I am shooting specifically for Instagram. I don't understand why Live Photos are not an option in this mode and should be included.
Native
RAW

format

iOS 10 introduced the ability for iPhones and iPads to shoot in RAW. The format is larger than HEIC or JPEG, but gives the photographer much more control when editing the image. Apple's image processing is great, Smart HDR sets the bar for computational photography and Live Photos are one of my favorite features of the camera. You would most likely lose these features when shooting in RAW, but sometimes I want the ability to have a larger file with more information to make my own decisions in post production. Third party apps like Halide offer shooting in RAW, but it would be nice if it was built in to the stock camera app, including a way to turn it on in a settings page within the app.
Separate locks for exposure and focus
The Camera currently has a way to to lock focus and exposure for photos by long pressing on the section of the part of the frame. There are many situations where you want to focus on one part of the frame and set the exposure on a separate part. You can do this now by locking the focus and exposure and then swiping up and down to adjust the exposure. I don't think this is totally necessary, given you can achieve the same ends with the current app, but it would make it easier.
Portrait Mode video
Portrait Mode for images is done by the phone on the software side, so I understand that it might be intensive on the hardware to bring it to video. But this would be a killer feature, particular for video interviews with people. It might be a beta feature at first, much like the original Portrait Mode, but this would be a killer feature.
Making a better Camera app
The Camera app is one of the most solid that Apple has on iOS. The simplicity to use, east at launching and power it offers is unrivaled. Nothing is perfect and these are some improvements I'd like to see Apple make in the Camera app for iOS 13 — if not at WWDC, then when new iPhones come this fall.
---
---
Date
May 30, 2019
---
---